Russia's Perspective on the Syrian Peace Process (Key Notes)
November 28, 2017






1. The Legal Basis for the Peaceful Process in Syria according to Russia:




The legal fround for the peaceful settlement in Syria must be implemented by means of the Geneva Communiqué (2012) and the UNSC Resolution 2254 (2015).




Basing on the above-mentioned documents:





Russia is committed to the sovereignty, independence, national unity and territorial integrity of Syria



A cessation of armed violence must be sustained with immediate, credible and visible actions by the Government of Syria



Russia is for creating a transitional governing body which can establish a neutral environment in which the transition can take place. That means that the transitional governing body would exercise full executive powers. It could include members of the present government and the opposition and other groups and shall be formed on the basis of mutual consent



Russian FM Sergey Lavrov has said many times that it is for the Syrian people to determine the future of the country. All groups and segments of society in Syria must be enabled to participate in a National Dialogue process


(Russia's FM Sergey Lavrov, Source: Reuters)


Before the full-scale settlement process gets started it is highly important to destroy terrorists who poses a threat not only to the regional powers but the entire world including Russia and the US (It is worth mentioning that unlike the US-led coalition Russia combats terrorists in Syria under the Damascus' official request)



Russia is open for cooperation with everyone who sticks to the above-mentioned documents and principles. Slogans like "peace process won't start until Assad gone" are absolutely unacceptable for the Russian government



Russia is for the continuation of political dialogue with the US on Syria and the current tensions between the countries musn't impact on the Middle East issues due to instability in the region



The Russian officials and leading experts on Syria point out that the so-called "Astana format" is for settling military issues on the ground (to cease military hostilities, to establish de-escalation zones, etc.), the "Vienna format" and the "Geneva format" are for discussing political issues (starting the National Dialogue process, etc.)


2. Russia's Pragmatic Interests on the Syrian Soil:


Syria is the last Russian stronghold in the Middle East (before the Syrian crisis began Russia was absent in the region (except co-sponsoring in the Israeli-Palestinian peace process from the political point of view). Along with this, the naval facility in Tartus provides a military presence in the region.


(Tartus Port, Source: Google Maps)


Russia is interested in saving its economic links with Damascus (weapons trade, oil trade, etc.)



Russia wants to save Assad's regime as a secular one (there are serious contradictions with Iran in this regard)



Testing of new weaponry (On 15 June during the "Direct Line with Vladimir Putin" the Russian president confirmed this: "We have deployed our state-of-art weapons to Syria and watched how it performed.")


(Direct Line with Vladimir Putin 2018, Source: The Kremlin)


Russia's not having influential economic leverage, cutting-edge technologies makes the country resort to a sabre-rattling strategy or a thuggish rhetoric (e.x. Russian diplomat Vladimir Safronkov's speech on the floor of the U.N. Security Council on 12 April 2017)


(Russian envoy to the United Nations Vladimir Safronkov giving a blunt speech
on the floor of the U.N. Security Council on April 12, Source: Reuters)


Although the Syrian case is not paramount for the Russian society it symbolizes the restoration of the national dignity and the influence in the international area



Furthermore, Russians are prone to sacrifice themselves (to get rid of comfort, progress and development) for the sake of the "Russia's global mission" ('Even Russian weather forecasts have become part of the show,' "The Economist" noted in October 2015)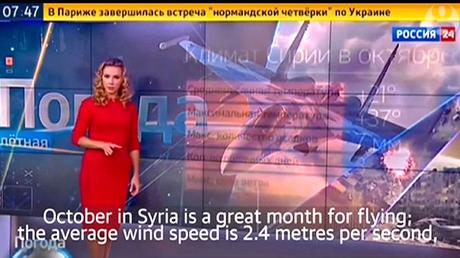 ('Even Russian weather forecasts have become part of the show,' Source: The Economist)


It is highly important for the Russian elite, especially for Vladimir Putin himself, to play the Syrian card on the eve the presidential election 2018 to consolidate the electorate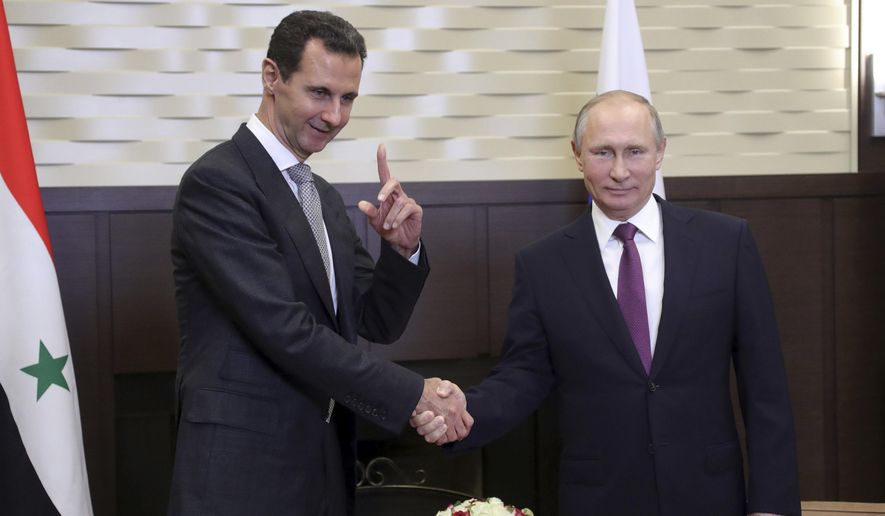 (Syrian President Bashar al-Assad, Russian President Vladimir Putin, in Sochi on 20 November 2017, Source: AP)
This report was prepared for 'The US-Russian relations in the Middle East: challenges and prospects' round table held by the School of World Politics (Факультет мировой политики МГУ) and Princeton University with a participation of a prominent American diplomat and an expert Daniel Kurtzer on November 1 2017