Russia and China relations in the Arctic: a win-win partnership?
March 31, 2015
The Ukrainian crisis has undermined Russia's relations with its Western partners in almost all spheres of cooperation, including in the Arctic region. As a result, Russia reinforced its relations and established new partnerships with other emerging countries, notably East Asian countries such as China. In the Russian Foreign Policy Concept of 2013, further cooperation with China is expressed as one of Russia's regional priorities. The document reads that "by sharing the same fundamental positions on key global issues as one of the core elements of regional and global stability" Russia and China must "seek ways to address new threats and challenges, finding solutions to urgent and international problems"[i].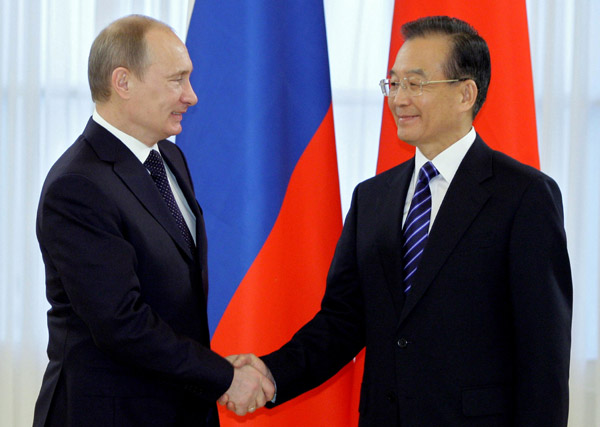 The Arctic region is composed of three groups of distinct state actors: the Arctic Ocean coastal states (Canada, Denmark (via Greenland), Norway, Russia and the United States), the Arctic nations gathering together the five Arctic coastal states plus Finland, Iceland and Sweden, and the group of non-Arctic states. Russia, as an Arctic coastal state, has sovereign and jurisdictional rights in the Arctic region, including exploration and exploitation of natural resources, fishing, and shipping along the Northern Sea Route (NSR). The Arctic region has become a top priority of Russian foreign policy in the 21st century since the development of the Russian Arctic zone – if successfully conducted – would not only enable Russia to regain its status of a great Arctic power as it was during the Soviet times, but also provide the country with considerable economic gains. Half of the Arctic resources (52%) are located in the Russian sector[i], and the Northern Sea Route has the potential to become "the new passage of world economics and international strategies"[ii] since, in ice-free shipping conditions, the route would reduce the distance from Rotterdam to Southeast Asia – currently via the Suez Canal – from 11,500 nautical miles to 6,900 nautical miles and could cut transit time by 10 to 15 days[iii]. On the other hand, China is not an Arctic state, and the country's northernmost territory lies more than 1,000 miles south of the Arctic Circle[iv]. Though under international law China's rights in the Arctic are limited, China has recently declared itself of being a "near Arctic state", and wants to assert its interests in the region by becoming more active in Arctic discussions. China views the Arctic as a region that represents global issues, which must be addressed not only by Arctic nations but also by the entire international community. China's interests in the Arctic can be divided into three groups: economic interests (natural resources, transportation and logistics), geopolitical interests (military and strategic spheres), and environmental, climatic and other scientific and research interests[v]. In the scope of this article, only the first group – economic interests – will be studied.
Impact of the Ukrainian crisis on cooperation between Russia and its western partners in the Arctic
The crisis in Ukraine, besides deeply affecting Russia's relations with Westerns powers, is having important fallouts on Arctic cooperation in two main areas: security cooperation and joint energy projects. As regards security cooperation, it involves mainly boycott or suspension of several meetings, forum, and joint exercises. Although, all representatives from the Arctic Council's member states – including Russia – and Permanent Participant organizations met in October 2014 in Yellowknife (Canada), Canada cancelled its participation into the Arctic Council's working-group level meeting on Task Force for Black Carbon and Methane that was held in Moscow in April 2014, denouncing Russia's actions in Ukraine. The launch of the Arctic Coast Guard Forum, which was originally planned for last fall, has been postponed[vi], and the joint military exercise Northern Eagle of Russian, U.S and Norwegian navies, which was held every two years, has been cancelled[vii].
Westerns powers' harsh position against Russia over its position in the Ukraine crisis also includes economic sanctions that impact the development of offshore energy resources in Russia's Arctic zone for which international expertize is needed. Though foreign companies such has Statoil[viii] and ExxonMobil[ix] have recently confirmed that they will continue Arctic drilling with Rosneft, joint exploitation of the Russian Arctic has been significantly slowed down. According to a communiqué published on the U.S Department of State's website, the sanctions prohibit "the provision, exportation, or reexportation of goods, services (…), or technology in support of exploration or production for deep water, Arctic offshore, or shale projects that have the potential to produce oil in the Russian Federation, or in maritime area claimed by the Russian Federation and extending from its territory"[x]. Western sanctions are targeting five Russian energy companies: Gazprom, Gazprom Neft, Sourgoutneftegaz, Lukoil and Rosneft. Due to restricting access to international funding, Rosneft, which in 2012 signed several joint operation agreements with foreign companies (Norwegian Statoil, Italian Eni and US ExxonMobil), had to ask the Kremlin for a $42 billion loan[xi], and recently announced that it will not be able to resume drilling in the Kara Sea in 2015[xii]. Therefore, as long as the crisis over Ukraine is not settled, the future of joint Arctic energy projects' development involving Russian and western companies remains uncertain. Consequently, Russia has to turn towards other powers' assistance, such as China.
The win-win aspects of further Sino-Russian cooperation in the Arctic
Due to intensive industrial assimilation during the Soviet period, Russian Arctic remains the most urbanized Arctic community in the world.[xiii] However, Russia's Arctic Zone lacks modern technologies, infrastructure and appropriate legislation that currently slow down the assimilation of its Arctic Zone. In order to optimize the development of its northern territories, Russian Arctic strategies of 2008 and 2013 reads that Russia has to implement new types of techniques and technologies for the exploitation of resources, develop the transport and energy infrastructure, and improve customs-tariff and tax-regulations. Cooperation with China in the Arctic could have positive effects on Russia's development of its Arctic zone. China as the largest populated country in the world is likely to become the world's largest economy by 2016[xiv]. In this respect, China presents itself not only as a potential customer of Russian Arctic resources, but could also offer Russia of what it needs in terms of capital and financial backing for the development of Russia's energy and transport infrastructure in the Arctic.
On the other hand, China also needs Russia to fulfill its ambitions in the Arctic. Chinese interest in Arctic's natural resources can be explained by the relative deficit of such resources in China and the country's increasing population and economic growth. Intense export activity in Chinese economy explains China's interest in transportation and logistics in the Arctic. Nearly half of China's GDP is estimated to be dependent on shipping[xv], and about 90% of Chinese trade is done by sea[xvi]. In this respect, the NSR represents a potential shipping highway for the future of Chinese trade, since the route from Shanghai to Rotterdam is about 2500 nautical miles shorter than the route through the Suez Canal, which represents significant time and cost advantages, but also reduces the risk of piracy. Chen Xulong from the China Institute of International Studies says, "China should have a long-term vision regarding Arctic shipping"[xvii]. China plans to send 15% of its international shipping through the Arctic by 2020[xviii].
Prospects for Sino-Russian cooperation in the Arctic
Sino-Russian economic cooperation in the Arctic can be divided into two main areas: investment in natural resources' development projects and development of the NSR's infrastructure. Several Chinese mining companies are already taking part in the exploration of the hydrocarbon resources of the Russian Arctic shelf, and in June 2014, Rosneft and China Petroleum National Corporation (CPNC) signed a 25-year agreement on Russian oil export to China. The two companies will jointly explore the Barents and Pechoras seas' shelves[xix]. In November 2014, Aleksey Miller, deputy chairman of Gazprom, met with Wang Yilin, chairman of Chinal National Offshore Oil Corporation (CNOOP) in order to discuss joint action on the Arctic shelf, notably as concerns projects in the Dolginskoye and Prirarzlomnoye fields. Sino-Russian cooperation in the energy sector could also involve joint operations in LNG projects[xx]. Furthermore, Sino-Russian cooperation in transport and logistic in the Arctic clearly is a win-win situation for China and Russia. Russia needs China's financial banking to build new harbors and other transport infrastructure along the NSR, and China needs Russian expertise and assistance in icebreaker to navigate in polar conditions. China has currently one icebreaker[xxi], and lacks the skills and technologies to create its own icebreaker fleet.
Conclusion
Taking into consideration Russia's unsteady position in the Arctic – Russia is the only non-western oriented country and NATO-member state in the Arctic – and the impacts of economic sanctions on the development of its energy projects in its Arctic zone, further cooperation with China appears to be an attractive alternative.
1) China's financial backing and supply of capital and technological know-how can boost the development of Russia's Arctic zone.
2) China-Russia cooperation in the Arctic might reinforce the Sino-Russian strategic cooperation already set up through the Shanghai Cooperation Organization (SCO) framework, and therefore give hope for future diplomatic support from China.
Nonetheless, it is worth mentioning that further Chinese investment and involvement in Arctic projects is an open door to China to establish a physical presence in the region, and therefore assert its position in Arctic affairs. In the long-term, this could represent a potential threat to Arctic states' and Russia's sovereignty in the region, and impact Arctic governance. In May 2013, China granted permanent observer status on the Arctic Council. Though observer members do not have decision-making and voting rights, and must confirm their will that they will not challenge the ownership of the five Arctic states, China declares itself being an "Arctic stakeholder"[xxii] and therefore intends to affirm its say in Arctic affairs. Since 2012, China's activities in the Arctic started to intensify dramatically, notably in terms of scientific research. China has one of the world's widest and strongest polar scientific capabilities, and in 2013 the China-Nordic Arctic Research Center (CNARC) was opened. The Center focuses on Arctic issues including climate change, Arctic resources, shipping and economic cooperation and Arctic policy-making and legislation. Also worth mentioning, China supports the principle of free navigation in the Arctic, which is contrary to Russian interest and position on the NSR, and considers that the Arctic should be a region that belongs to everyone. In this respect, some Chinese scholars state that since "the Arctic belongs to all the people around the world (and that no) nation has sovereignty over it, Arctic resources will be allocated according to the needs of the world"[xxiii]. Consequently, further cooperation with China might represent a future dilemma for Russia. Russia will have to balance between its need to maintain cooperative relation with China as its key strategic partner and to protect its national interests in the region. Last, but not least, further cooperation with China in the Arctic is likely to isolate Russia even more from cooperative relations with western powers, whereas the Arctic – because of the global challenges the region represents – should become a bridge between Western countries and Russia, and a platform for enhanced and effective cooperation.
---