How Tajikistan's anti-radicalization policies aggravate the risk of radicalization
July 21, 2016
Tajikistan's response to the threat of violent radicalization has largely taken the form of aggressive religious repression, which, some say, is highly counterproductive. President Emomali Rahmon's regime has taken the clergy firmly under its control, for example, by requiring pre-approval of all sermon topics, and has also enacted laws to restrict Islamic practices and expressions of "foreign Islam," for instance, forcing women to remove their hijabs. As of January 2016, the police is reported to have shaved off the beards of nearly 13,000 men as part of an anti-radicalization campaign. The regime has banned most children under 18 from attending regular Friday prayers in mosques, and earlier this year, the government banned citizens under 40 from traveling to perform the Hajj, one of the five basic pillars of Islamic practice. These policies have angered and alienated many Tajikistani citizens.
The regime has stepped up its vigilance of observant Muslim groups that are peaceful and do not necessarily have any inclinations toward radicalism. According to Edward Lemon in his report Daesh and Tajikistan: The Regime's (In)Security Policy, the Tajikistani government views "Islam which exists outside of state control…as a potential threat to regime security and societal stability," thus conflating Islamic radicals and any "anti-political pious Muslims."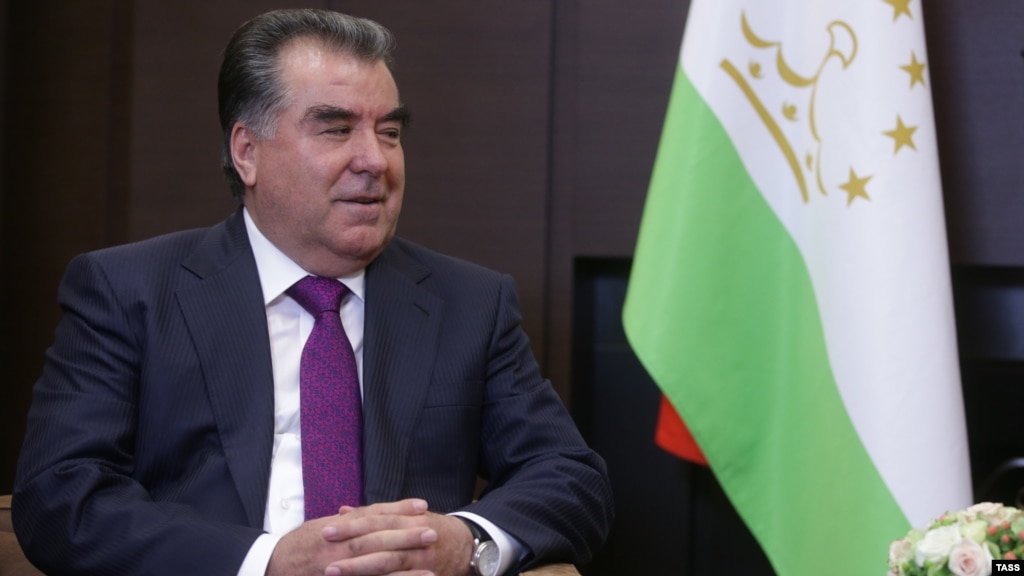 President of the Republic of Tajikistan Emomali Rahmon. Photo from RFE/RL
Under the pretext of countering extremism, it is using the threat of ISIS to defeat faith-based opposition to the regime, like the Islamic Renaissance Party of Tajikistan (IRPT), which was formally banned in 2015. By doing so, however, it eliminates safer outlets for citizens to air their grievances.
The policy's "assertive secularism" also weakens a potential theological safeguard against ISIS messaging, which generally attracts people who have received little to no Islamic education. Rather than promoting open discussion and teaching of Islam, which could help intellectually fortify young people against the spurious religious rhetoric of ISIS propaganda, the regime has silenced opposing Islamic voices, persecuted those who attend even informal meetings to talk about religion, and reduced Islamic education opportunities, both at home and abroad.
On the other hand, an excellent example of pro-religion anti-radicalization policy is occurring in neighboring Uzbekistan, where Islamic poet and commentator Hayrulla Hamidov was recently released from prison. Hamidov is popular and well-respected for speaking out on controversial religious and political topics, and had been jailed since 2010 on politically-motivated charges. Now, he has been released and made the face of Uzbekistan's anti-ISIS campaign, a move that has been met with success, according to Noah Tucker in his report on public and state responses to ISIS messaging in Central Asia. Uzbekistan's shift in strategy to measured promotion of Islamic expression and practice has been effective in countering extremist arguments, which can be seen in online social media, says Tucker. He notes instances of Uzbeks posting photos of newly constructed mosques with full parking lots or people praying in state-run mosques to counter ISIS supporters' claims that Uzbeks are not free to attend mosque and practice their religion.
These kinds of policies could help build trust between the public and the government, which could bolster the regime's defenses in the propaganda war happening online. ISIS supporters' arguments are undoubtedly more persuasive when their claims of Islamic oppression seem true. Tucker emphasizes that Tajikistani social media is ridden with propaganda and misinformation from all sides, both foreign and domestic. He notes that Tajikistani citizens seem to have few, if any, objective sources of information with which to separate the facts from the propagandistic fiction.
The intensification of Tajikistan's anti-radicalization policies comes at a time when external factors push the threat of extremism ever higher. Although 80 percent of Tajik ISIS fighters are recruited in Russia, tens of thousands are returning home due to recently tightened immigration laws. In addition, the Russian recession and decline of the ruble has hugely impacted Tajikistan's economy; remittances, which made up 50 percent of the national GDP before the financial crisis, plummeted by 65 percent (in USD) last year. Economic pressures are building in Tajikistan, a poor, mountainous country whose infrastructure and production levels never recovered from a devastating civil war (1992-1997).
Tajikistani migrant workers at a construction site in Moscow. Photo by Kirill Kuzmin from IWPR
Lemon notes that the regime greatly exaggerates the role that poverty and economic challenges play in ISIS recruitment, underscoring the absence of monetary reward mentioned in ISIS recruitment videos. However, individual profiles of Tajik fighters we have access to (albeit few and far between) nonetheless show that economic incentives are extremely important. In a video interview published by Deutsche Welle in May, a former Tajik ISIS fighter, when asked why people joined ISIS, said, "People get recruited for various reasons. Some owe money to the bank. Others can't pay their rent. A man [recruiter] promised to settle everything for them." Other profiles of ISIS recruits show that promises of material comfort—a paid trip, a house, child support—play a significant role in their decisions to join the terrorist organization. According to one UN official earlier this year, "Life has become more difficult and financially unviable [in Tajikistan], and the lure and appeal of ISIS is understood."
Mounting economic pressures, an influx of young migrant workers, political and religious repression and feelings of alienation from the regime, coupled with a dearth of trusted independent media sources could create fertile ground for ISIS recruitment. A change in Tajikistan's policy toward Islam could be the most effective and practicable means they have to curb the rising threat of violent extremism.
---